ADVERT
SIZE (mm)
B/WHITE
COLOUR
16th
22 x 63
R450
R495
8th
46 x 63
R660
R715
1/4
94 x 63/
46 x 128
R1050
R1320
1/2
94 x 128/
190 x 63
R1800
R2440
Full page
215 x 154
R3000
R4000
Back cover
215 x 154
–
R7000
Advertising rates are valid for the 2021 edition.
The advantage of advertising
One of the things that make the Hangklip-Kleinmond Book so useful, is the fact that everyone is listed in the alphabetical telephone directory. Residents can look up the contact details of their favourite business and call ahead – a useful feature to reach loyal customers but not sufficient on its own if you are trying to reach potential new customers.
The Hangklip-Kleinmond Book contains a Business Index reserved for the advertisers of the book. The business index is an alphabetical list of all the advertisers grouped according to their business categories ie. 'Delivery Service', 'Estate Agents' or 'Building Contractors' and provides a page referrence to the advertisement.
The advertisement is placed on (or near to) the page where the actual listing appears. The advertisers' listings are printed in bold which make them stand out from the free listings.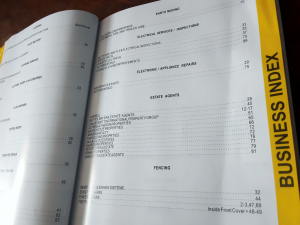 Advertising DEADLINE
The advertising deadline is 31 October 2020. All bookings, designs and payments must be finalized by 31 October 2020 for inclusion in the 2021 edition. Book your spot here.
Distribution
The books are distributed via the postal delivery services during the first week of December 2020. Additional books are available throughout the year from local estate agents, holiday accommodation establishments and local village shops.
Contact Ronel Theron on 072 290 8332 or info@villagevoice.co.za for more information.